Dit evenement is voorbij.
Test Shoot
oktober 30 @ 14:00

-

oktober 31 @ 23:00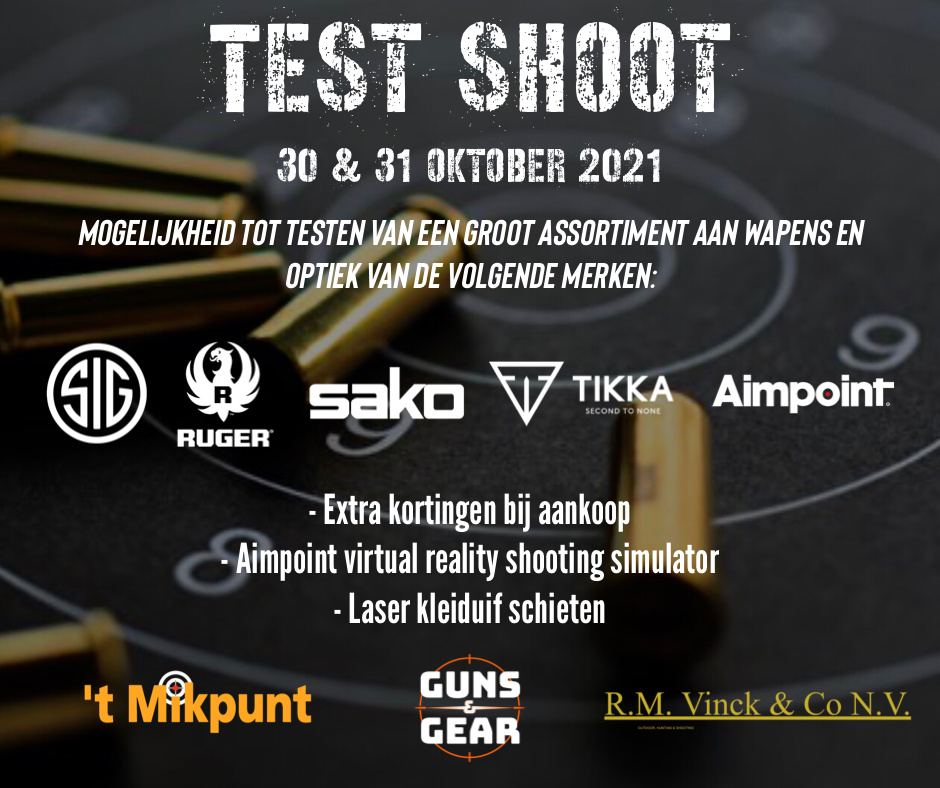 In Samenwerking met schietstand & wapenhandel 't Mikpunt, Guns & Gear en Vinck & Co organiseren we een Test Shoot. Tijdens het weekend van 30 en 31 oktober is het mogelijk om wapens en optiek van volgende merken te testen:
Tikka
Sako
Ruger
Sig-Sauer
Aimpoint
Ruger
Ruger Pistol KMKIV 688 Hunter TARGET GRIPS .22LR
Ruger semi auto rifle 10-22 RPF Black .22LR
Ruger American Predator .223 REM with 10 rds magpul mag • Ruger Precision Rimfire Rifle cal.22LR
Ruger AM Rimfire Long Range Target .22LR
Sig – Sauer
Sig S. Pist. P226 X-SIX SKELETON 9mm P.
Sig S. Pist. P226 LDC stainless cal.9mm P.
Sig S. P226 X5 Allround PRODUCTION OPTICS 9mmx19
Sig S. Pist. P226 X-Five Supermatch 9mm P.
Sig Sauer Pistol P220 x-six + rail .45ACP
Sig S. P210 Super Target 6inch cal.9mm P.
Sig S. P226 Legion SA/DA cal.9×19
Sig S. MCX Sport Virtus – 16,6 inch barrel cal. 223REM + Aimpoint ACRO
Sig S. P320 X-Five cal. 9×19 + Aimpoint ACRO
Sako & Tikka
TRG22 RH 308WIN M08 26in B-NS PHO MB
T3x RH 308WIN TAC A1 NS 10RD FS MB 24in MT5/8-24
85/XS RH 223REM MT VAL M-NS DM FL SS 20in MT18x1
T3x RH 308WIN LITE NS SS 3RD 20in MT14x1
85/S RH 243WIN CARBONLIGHT-NS DM SS 20.4in MT14X1
T3x RH 308WIN CTR SYN NS 10RD PICA 20in MT5/8-24
S20 RH 308WIN PRE/PRE CON NS H237 TST 5RD 24in MT5/8-24 • T1x RH UPR 22LR 20in NS 10RD MT1/2×28 UNEF
T1x RH 22LR 20inch NS 10rd MT 1/2×20 UNF
T3x RH 223REM SVAR NS PICA SS ST 6RD 23.7in
T3x RH 308WIN UPR NS 10RD PICA 24in MT5/8-24
Rossi
Bolt action rifle HB MT1/2×20 – 21″ black .22LR
Kortingen tot maximum 2 weken na testevent!
• Ruger: 10% op stock items, 5 % op bestellingen
• Sig-Sauer: 3 % op stock items
• Sako & Tikka: 5% enkel op stock items
Voorwaarden:
In het bezit zijn van een model 4 of definitieve licentie in dezelfde categorie als het test wapen, geen eigen munitie.
Niet-leden: dagpas €10,00
Zaterdag 14.00 u – 23.00 u
Zondag 14.00 u – 23.00 u
Geen bankcontact aanwezig!
Meer info: info@mikpunt.eu